10.17.2005
Welcome to a New Hag.
"The difference between us and the animals is our ability to accessorize." Steel Magnolias



Chicago Jackie
introduced me to the fabulous
Miss Maddie
and her wonderful design business
Girlie Bits
.
Thanks to her, the Hag. has this fabulous new outfit. Me likey. It's fall, darlings, go find yourselves a nice new template to match your new autumnal malaise.
File under:
Template

Name:Miss Marisol
Location:Manhattan, New York, United States

"As only New Yorkers know, If you can get through the twilight, You'll live through the night." -- Dorothy Parker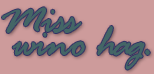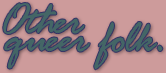 (And by "queer," I mean different, though some are, in fact "queer." But not in the pejorative sense.)