7.14.2005
Welcome Michele Fans . . .
I stumbled home from Mister
g8s
' apartment, blissfully intoxicated by a gorgeous bottle of white wine from Michigan to find that that badass butterfly amongst moths,
Miss Michele
, has chosen me as her
New Site of the Day
.
So, welcome,
Miss Hag.
virgins . . . Don't worry. This won't hurt a bit.

(Good Manners Turn Me On!)


Name:Miss Marisol
Location:Manhattan, New York, United States

"As only New Yorkers know, If you can get through the twilight, You'll live through the night." -- Dorothy Parker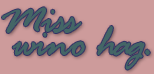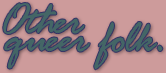 (And by "queer," I mean different, though some are, in fact "queer." But not in the pejorative sense.)