7.10.2005
Morning Sedition
On July 14th every year, at
Restaurant Florent
, there is a grand celebration in honor of Bastille Day.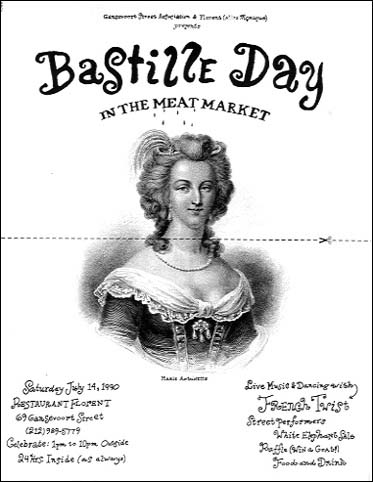 There will be can-can dancers shaking their groove thing on the countertops, burlesque performances by fabulous people like Ami Goodheart and Dirty Martini (see below), and general merrymaking and ballyhoo.
And, if you are very lucky, Florent makes an appearance in full drag as Marie Antoinette and declares "Let them eat cake!" to the adoring crowd of revelers.
This Thursday, the Bastille day festivities will continue all night long and into the wee hours of Friday morning. To cap off the celebration,
Air America Radio
(the radio station for liberals and nipple lovers) will be broadcasting live from the restaurant. The
Morning Sedition
crew will be taking up post in Florent from 6 a.m. - 9 a.m. on Friday morning.
g8s and I will be ending our evening at that time, so if you are awake that early (or up that late), tune in to your local Air America station (click
here
to find your station) or you can listen to a live stream
here
. Or, if you are in the neighborhood, stop by. g8s and I will be the surly couple hovering over the espresso machine.
And don't worry, at Florent, the sarcasm and attitude are always on the house!