6.26.2005
In Vino Veritas, In Aqua Salus . . . (Part 1)
A couple of years ago, both Betsey and I were living on the Upper West Side of Manhattan. It took approximately 7 minutes and 38 seconds to casually stroll betwixt our apartments. While living there, Betsey introduced me to something I have come to love passionately:
Love My Goat
red table wine from
Bully Hill Vineyards
.
Betsey also introduced me to the
Vintage New York
wine store on Broadway and 93rd Street. There, in the pale golden wood cellar, you will find only New York wines for sale. In the back of the store, there is a short bar with simple leather stools. For a dollar, you can drink a heavily poured sample of any of the wines in the store.
We spent many afternoons in the back of Vintage, becoming slowly and enthusiastically drunk. I told her, "If I ever go missing, check here."
Soon, Jason became equally enthralled with Love My Goat. It is a simple, drinkable wine. It is full of fruit, but not syrupy. We always have a bottle in the wine rack. It was soon decided that we would venture to the quaint town of Hammondsport to visit the place where Love My Goat was first born.
The Gods of Time and Scheduling worked together and afforded Jason and I a brief amount of time to take a quick journey up to the northwestern corner of New York known as the Finger Lakes wine region. Our motto was to "Just have a good fucking time." We had one primary goal; to visit Bully Hill. Otherwise, we would be spontaneous and relaxed. We would have a direct route there, but we would navigate home with just a road map and follow secondary routes. Scenic routes.
We even came up with a fail-safe measure to reduce squabbling (one of our fortes). Anytime one person felt irritated by the other, the irritatee would respond by whispering their grievance. Then, it wouldn't seem like arguing.
"Sweetie, are you sure we don't want to take this exit?"
Whispered, "Darling. I have reviewed the map several times. Please don't question my navigational skills."
"Okay. I was merely clarifying the directions."
Smile.
Smile.
Taken at a mall photo booth in Binghamton, New York.
The Finger Lakes did not disappoint. There are a dozen glacially formed freshwater bodies running on the north-south axis, all less than 2 miles wide. At the sourthern end of Keuka, Seneca and Canandaigua lakes, one can find several wineries. You become distinctly aware of your grounding in regards to elevation as you enter the area of the Finger Lakes. The land is marked by steep, stately hills and hanging valleys, the humbling reminder of former walls of ice.
We stayed in Corning, a twenty minute drive from the Finger Lakes and home of the Corning Museum of Glass.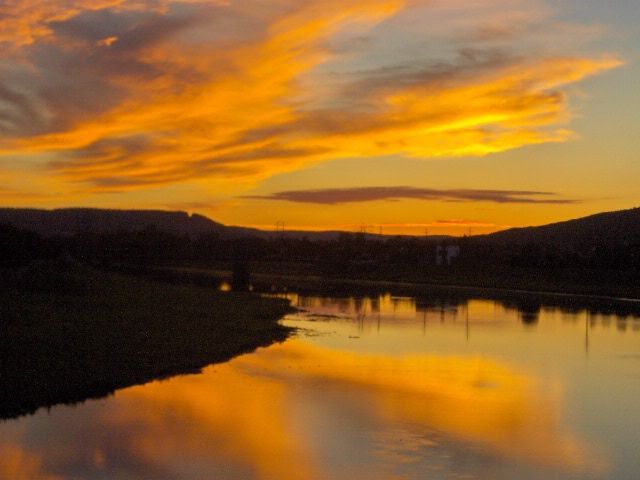 The first morning, we woke up early. Excited about the visit to the motherland of our favorite wine. We arrived at 9:30 a.m. to the visitor's center. They were still mopping the floor.
A portly man with a mop smiled at us and said, "Uh...we'll start the tour in 10 minutes or so. In case. Anyone else. Uh. Shows up. This early."
I beamed. "That's fine. I'm just so excited to be here," I gushed in my cheerleading voice.
The
full story
of the founders of the Bully Hill vineyard, Walter S. Taylor and his family, is complicated and troubled, like an soap opera or a Bronte novel.
The story is highlighted by a controversy in 1977 when Coca-Cola sued Walter S. Taylor for the use of his name on the bottles of wine produced by Bully Hill. Walter and his grandson were fired from the original Bully Hill Wineries by the other shareholders.
Before Prohibition, the Keuka Lake wine industry, led by the Taylor family, recorded an annual production of champagne, wine and grape brandy worth about $5,000,000. To the dismay of other shareholder, the Taylors fought to maintain true to the wine recipes handed down through four generations of winemakers. The Taylors fought for "integrity and honesty" in wine making and labeling.
They disagreed with chemical fortification in wines and felt that, at the very least, consumers should know the content of the wine composition by reading the label. Famously, Walter S. Taylor designed all of the original wine labels. His art is dense and colorful, like what you might imagine if Sargent Pepper opened a museum after quitting the Lonely Hearts Club band.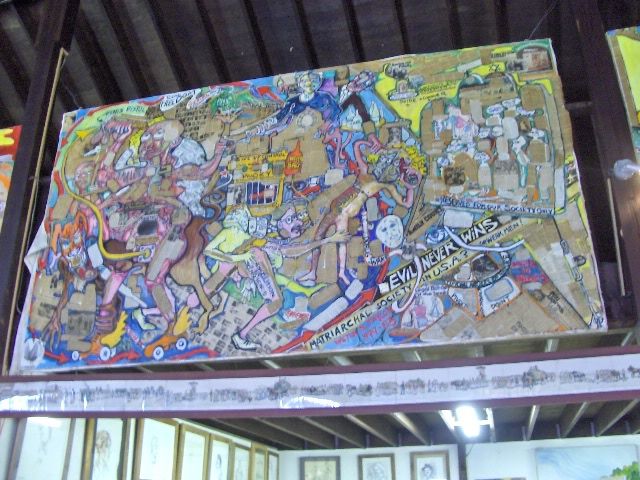 Click to enlarge.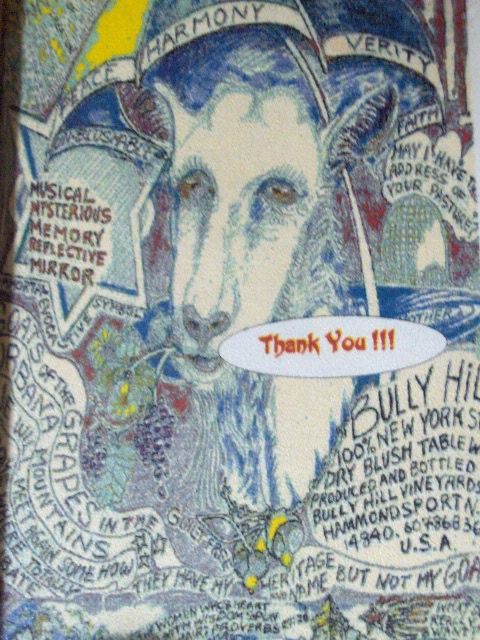 The Taylors built a new vineyard that is marked by a sense of maverick individualism. Having lost the rights to use his name, Walter S. Taylor hired a bunch of local kids to come to his vineyard with a glass and a black marker. They went through each bottle and blacked out the Taylor name while imbibing on free wine.
Taylor is quoted in his New York Times obituary discussing his favorite goat, named, "Guilt Free,"
"They have my name and heritage but they didn't get my goat!"
Not a real goat.
Stay tuned for more pics from the road, the results of the Whisper Method of Confrontation and to learn if anyone's goat gets got . . .
Click for a bigger picture of my alcoholism.