5.07.2005
Dems Voted Out of Church Weigh Options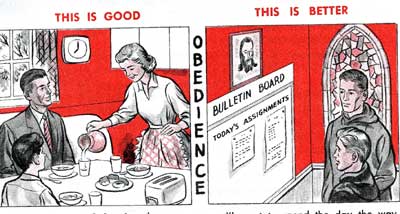 Question: How successful is an organized religion when a large portion of the people raised under its tenets eventually describe themselves as "recovering" from the aforementioned religion?
Many former Catholics and Christians choose to be the sheep that stray based on the reasoning that they can no longer adhere to a religion whose leaders cannot separate their profane agendas from sacred beliefs. Sadly, overzealous "spiritual leaders" often use their position to impose their secular agenda.
And, it is not exclusive to any one religion, as congregants of a tiny Baptist outpost in Waynesville, North Carolina recently learned . . .
Submitted for your perusal from
The Associated Press
:
A pastor who led a charge to kick out nine church members who refused to support President Bush was the talk of the town Saturday in the mountain hamlet, Waynesville, North Carolina. The ousted congregants are considering hiring a lawyer.

Pastor Chan Chandler greeted people at the door of tiny East Waynesville Baptist Church on Saturday evening as the church choir practiced and even welcomed them to attend services Sunday morning — if there's room inside. But he was not prepared to talk about his mixing of religion and politics.

"On the advice of counsel, I've been advised not to have any comment at this time," Chandler told The Associated Press. "We will have a statement later."

Members of the congregation said Chandler told them during last year's presidential campaign that anyone who planned to vote for Democratic nominee John Kerry needed to leave the church.

Longtime member Selma Morris, who was treasurer at the church, said Chandler's sermons remained political after Bush won re-election. This past week, his comments turned to politics again at a church gathering that ended with nine members voted out.

"This is very disturbing," said Pastor Robert Prince III, who leads the congregation at the nearby First Baptist Church. "I've been a pastor for more than 25 years, and I have never seen church members voted out for something like this."

The 100-member East Waynesville Baptist Church sits on a bluff a short distance from downtown Waynesville, a mountain town about 125 miles northwest of Charlotte. A white steeple and stain glass windows adorn the simple brick structure, built in 1965, with a view of the mountains from the front steps.

Across the street sits the church's parsonage, a small brick ranch home with children's toys scattered in the front lawn. A small wooden sign out front reads simply "The Chandlers." No one answered the phone there on Saturday.

In the days since the nine members were ousted, many more members have reportedly left the church in protest.

"He went on and on about how he's going to bring politics up, and if we didn't agree with him, we should leave," Isaac Sutton told The News and Observer of Raleigh. "I think I deserve the right to vote for who I want to."

Sutton, a deacon who worshipped at East Waynesville Baptist Church for the past 12 years, said he and his wife were among the nine voted out.

Prince said he noticed during the presidential campaign that more pastors made endorsements — although not from the pulpit — than in past years.

"It used to be that pastors would speak about the issues and not specific candidates," he said. "I think that line is being crossed."