8.22.2005
You're Nobody Till Somebody . . .
. . .
memes
you.
I awoke today to find that my favorite
mean_girl
used me as her "naughty little example" for a meme today. I feel so violated.
And to answer your question, mg, I am working at becoming a professional writer (aren't we all?). But, nobody seems to want to pay me just yet.

Name:Miss Marisol
Location:Manhattan, New York, United States

"As only New Yorkers know, If you can get through the twilight, You'll live through the night." -- Dorothy Parker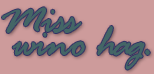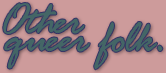 (And by "queer," I mean different, though some are, in fact "queer." But not in the pejorative sense.)