8.04.2006
Gag Me With a Spoon
I took my 13-year old niece to what I anticipated to be a feckless child's movie,
Monster House
.
Dialogue from the movie about a house that is, in fact, a human eating monster.
Little Girl: That's the uvula!
Little Boy: You mean, it's a
girl
house?
Little Girl: No, it's the
uvula
. It stimulates the gag reflex. Everyone has one.
Little Boy: I don't!
Wha-aah-aht?

Name:Miss Marisol
Location:Manhattan, New York, United States

"As only New Yorkers know, If you can get through the twilight, You'll live through the night." -- Dorothy Parker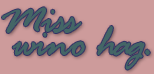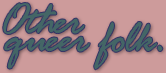 (And by "queer," I mean different, though some are, in fact "queer." But not in the pejorative sense.)