3.02.2007
To Know Him is To Love Him
To Know Him is To Love Him
Originally uploaded by Miss Hag.
There is a Post-It on the wall by my desk that reads, "Give him a chance to miss you."
I am leaving Manhattan soon to go on a journey and I plan to miss this city while I am gone. I always do. It is the only place I have ever felt is my home.
Click above to read more . . .

Name:Miss Marisol
Location:Manhattan, New York, United States

"As only New Yorkers know, If you can get through the twilight, You'll live through the night." -- Dorothy Parker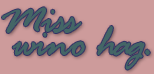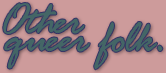 (And by "queer," I mean different, though some are, in fact "queer." But not in the pejorative sense.)