5.24.2005
To My Lovelies . . .
An evil adware/spyware issue on my laptop turned into an evil blue screen issue which has turned into my being incommunicado. I have been thinking about you, my lovely blogging friends . . . I just haven't been able to reach out and touch ya.
Alas, the Geek Squad (1-800-GEEKSQUAD. No Joke!) is coming to my assistance, so keep checking in!

Name:Miss Marisol
Location:Manhattan, New York, United States

"As only New Yorkers know, If you can get through the twilight, You'll live through the night." -- Dorothy Parker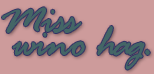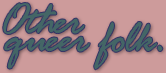 (And by "queer," I mean different, though some are, in fact "queer." But not in the pejorative sense.)