1.16.2005
Guadeloupe
Patrick is on his way to
Guadeloupe
in the Eastern Caribbean for six weeks. Self imposed artist retreat. It was a bitch to get him to the airport. Plane leaves at 7 a.m. and he stumbles into Florent with Dennis at 5 a.m. for goodbye shots.
I will be joining him in a few weeks. Using it as a writing expedition.
sailing, takes me away. . .


Name:Miss Marisol
Location:Manhattan, New York, United States

"As only New Yorkers know, If you can get through the twilight, You'll live through the night." -- Dorothy Parker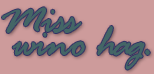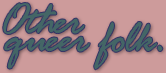 (And by "queer," I mean different, though some are, in fact "queer." But not in the pejorative sense.)